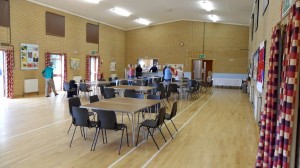 There is a large hall area capable of seating up to 150 people. The hall has a stage area which can be used in conjunction with any activity the hirer requires the hall for. The hall has a full sound system and large projector screen. There are a number of doors which lead to the recreation area outside making it the perfect venue for weddings and parties.
The hall has a large kitchen with first class facilities for cooking and preparing food. A large hatchway connects the kitchen to the hall for the serving of food and drink.
The main hall also has a badminton court marked out which can be booked by the hour.